First up - I hope everyone had a great Christmas. It has been very busy here with parties Christmas Day, Boxing day and thereafter ;). My brother came home from Sydney on Boxing day so have barely had time to be on the computer etc (shock, horror, there is a life away from here!). Went to the beach on Friday when it was about 35deg and generally just been having a good time out in the sun etc. Went down to the Kepala Pet Resort again today and both the dogs and I had a ball. We weren't too naughty either ;). Not too much 'in your face' etc.
Over Christmas we had quite a few families over, some with young children (eldest at 7yrs) so kept the dogs downstairs separated from the kids. All of which are used to dogs, but having smaller, *very* tolerant dogs doesn't mean that the kids are dog proof, but rather the dogs are kid proof ;). I was *very* happy with both dogs. Kinta gave a few *woofs* when people came outside, but was quite confident to come up and say hi. With the exception of one. I completely forgot about one of our family friends who is epileptic and loooves animals. She went to 'grab' Kinta (there is no other way to describe it) and Kinta got the begeezers scared out of her.... Thankfully in about 5 mins they were good friends again and Kinta's confidence came right up again when I pulled out the clicker ant C&T each time she went to say 'hi' to someone. We also have a few *woofs* at one of the kids' scooter on the decking (makes a funny noise) and the 2yr old (on Boxing day) climbing up the stairs as 2 yr olds do. Nothing major as a simple "enough" or "don't be silly" from me stopped her from continuing. So all in all I was over the moon, as home-turf seems to be where Kinta maintains her reserved behaviour. We did have a few drama's though. Once on Christmas day - I had the dogs briefly up with me and the young kids. These kids live with dogs, but given that theirs are smaller and less excitable, started to get quite excited. I was watching Kinta and somehow one of them (I thought Leo, parents of girl thought Kinta) got a little too excited and knocked her over. 5 mins later all was forgotten and just to make sure both parties were fine I got the dogs out (one at a time this time!) with the girl so that they could have a pat, do some tricks, get fed etc. All went smoothly then, and also gave me a good moment to point out to girl that getting excited around doggies is not a good thing as they get excited too (she was getting really excited at the tricks they could do!). So I was pleased with that!
What *does* annoy me though is that on Boxing day the relo's brought their dogs over too (not the annoying part), one of which is an 11 yr old Pom who wouldn't like to be mixed with the rambunctious puppies! So I kept her upstairs and the other dogs downstairs. Enter 2yr old toddler, also lives with a dog. She loved the look of Brandy (Pom) and tried to grab hold of her.... Brandy was not all that appreciative and tried to bite her.... but it was me who has to watch kids and dogs, not the kids parents or the owners of the dogs (enter annoying part!). What's more frustrating is that if a small dog snaps at a toddler, parents see it is 'nothing' and the dog didn't mean it/ won't do any harm... but as soon as one of mine *might* do something like that (even so much as 'bark' etc) then they are ones to *really* watch as they are dangerous etc..... *sigh*. I'd trust my dogs over 90% of little dogs thank-you!
Anyway - back on task - Christmas was really good and a great catch up with family. The Sunday before we had an agility meet at a friends place (full agility course) which was heaps of fun for dogs and family! I'm also proud to announce that I *can* bake!!! hehehe! I made a lemon tart from scratch - base and all and it turned out really well! Even the base! I was surprised as my mum, Queen of all cooking sometimes struggles with the short crust pastry, but for some reason, this recipe worked!!! I also made Caramel Slice, Shortbread and Brownies for the Christmas festivities! All seemed to go down well ;).
Since then I've had a couple of lazy days at home, travels to the beach and Kepala Park, and movies/ shopping with friends. Tomorrow night i'm off to Phillip Island again for NYE. Looking forward to it! I also have a stack of photos I took over the week (given clean dogs!).... Just look at Kinta.... *finally* some nice stacked shots: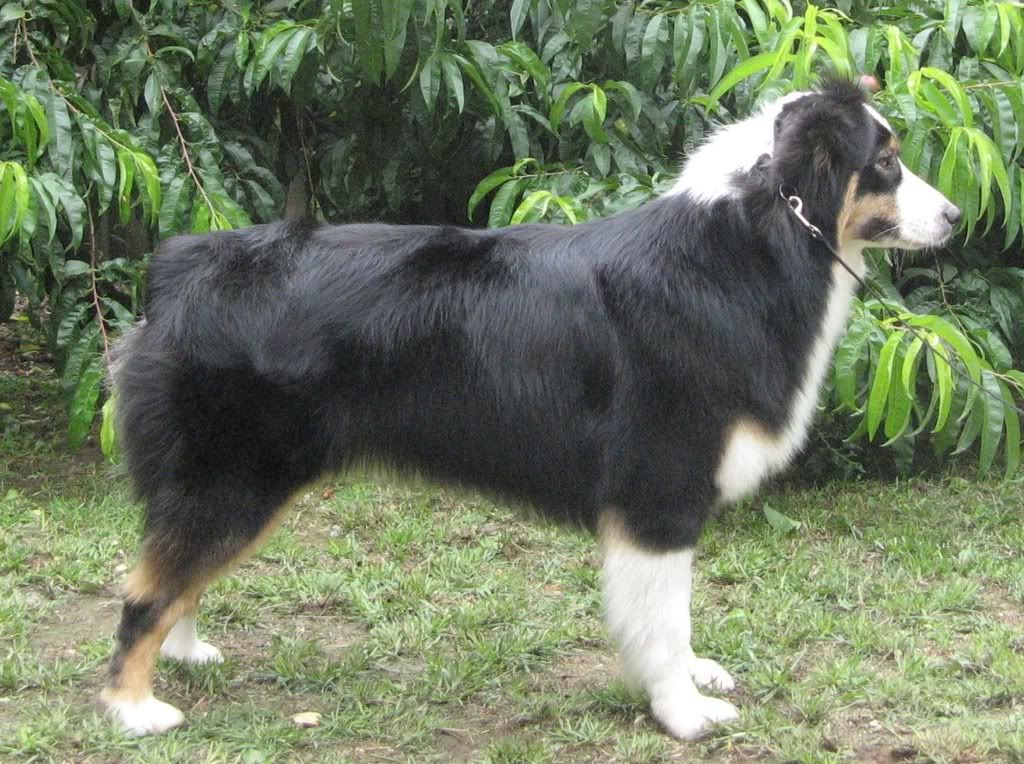 And some candid shots I took mucking around:
Leaping for the ball: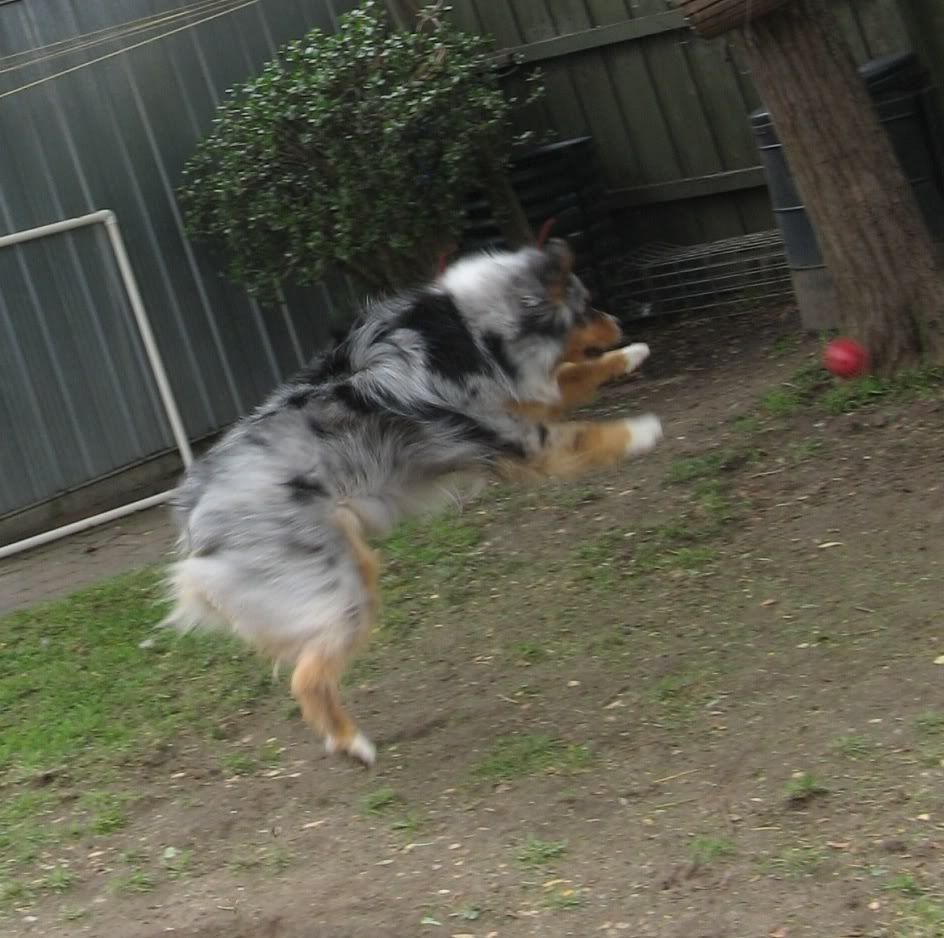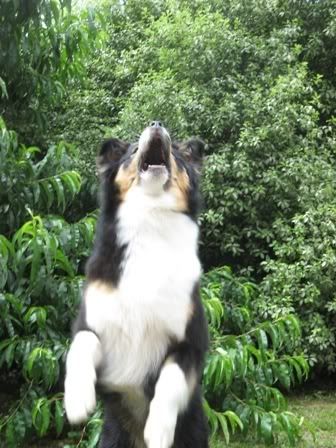 Jumping for Joy!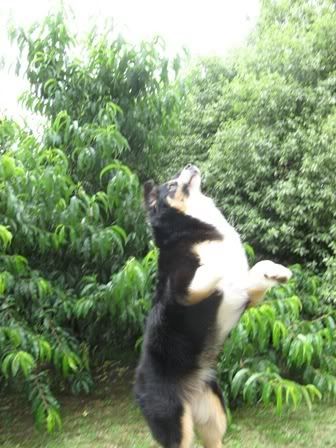 and the main reason why my dogs hate me:
'nother great stacked shot of Leo (I think I'm getting the hang of this now!)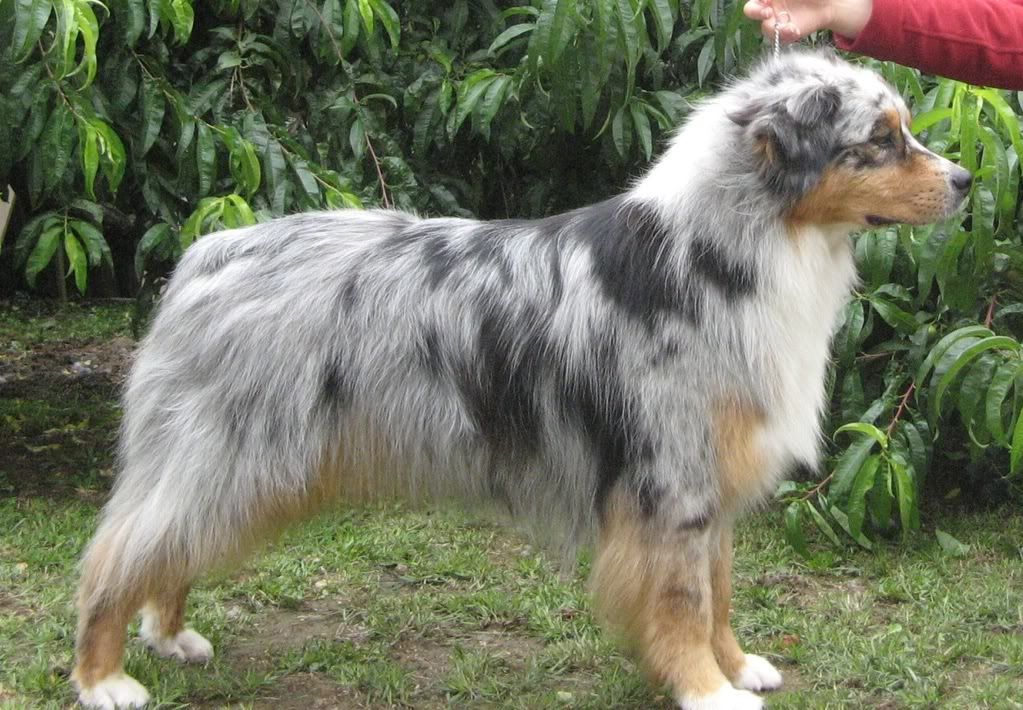 As for the Naughty Black Dog?! As many of you know - I have had tendonitis in my wrist coming up to 3mths now. It's a royal pain in the bum and *finally* has been on the improve. I am to wear my wrist out of the splint as much as possible and do various tendon strength exercises etc,etc. All was going well and I was marvelling in the car today (driving to Kepala) how much improved my wrist is etc,etc. Enter Kepala park and 2 hooligan Aussies. They were getting a bit much and running through the centre of people etc. I tried to call Kinta to get her to settle and come she did - *SMACK* right into my sore hand (I was seated) and the pain shot through it! When I tried to move my thumb again I couldn't! I swear, the pain was soo bad I was almost in tears! I couldn't even move my thumb!!!! I tried again and then *plop* somehow my bone slips back into joint!! She had dislocated it! Don't know which one, don't know how, but she had! Now I'm back to square 1 with the sodden wrist as I can barely move it again so back in the splint it goes!! *very BIG sigh*!
ETA: Exciting news - I had Kinta booked in on the 27th to get her hips and elbows scored - now waiting until the results come out! Next step in Feb is for her MDR1 DNA test :)