OK - there is a reason for the lack of posts - mainly the fact that I've been away for the past week in Tasmania for our family holiday (minus big-brother ;-) ). So beware - shis is going to be long and jam packed full of photos!
We left for Tassie last Friday - just for a holiday in general, but also because Mum & Dad wanted to take me around to see where we spent our first few years etc. We were based in Hobart (one of the RCI resorts) but basically traveling around a little each day. The resort itself was relatively simple as resorts go (most usually have quite a few facilities such as pool, gym, tennis courts, squash courts etc) so there wasn't much to do around the place. Doesn't matter too much as we were never going to be home, particularly on this trip, but Mum and I usually like to spend a day or 2 at the resort doing nothing but reading, watching TV and using the facilities ;-). Didn't have any time for that here though!
Saturday:
Went to pick up car so wondered around Hobart for the morning (and had a glorious sleep in.... can't remember the last time I did that!). Took the car up to Russell Falls (can't remember the actual name of the park) which was a nice, easy walk, although a little disappointing as by the sound of it, the falls should have been fabulous, but because of the lack of rain/ drought, it was a little more than a trickle.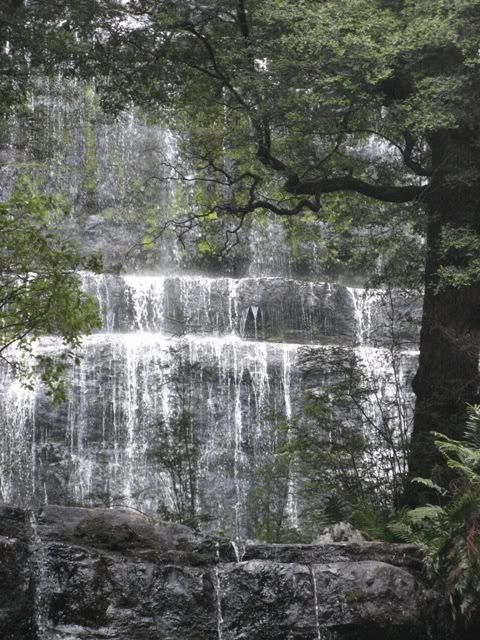 These are 2 different falls (the smaller one being Russel falls), but I can't remember the name of the 2nd one either!
Some photos throughout the walk: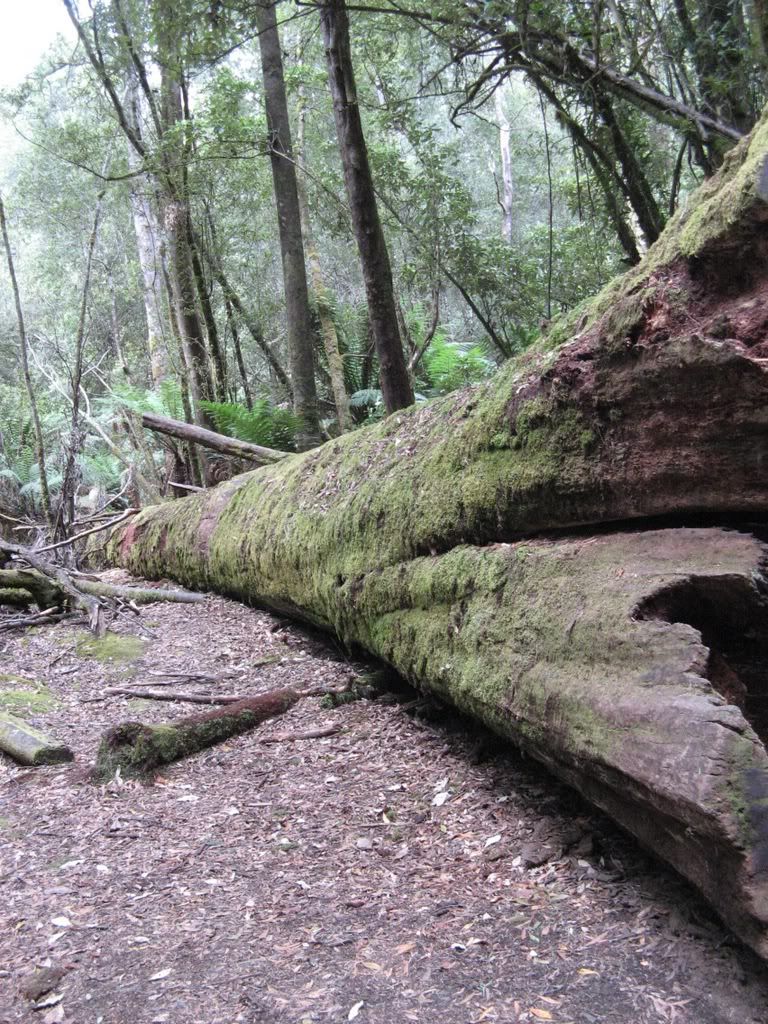 (Giant tree!)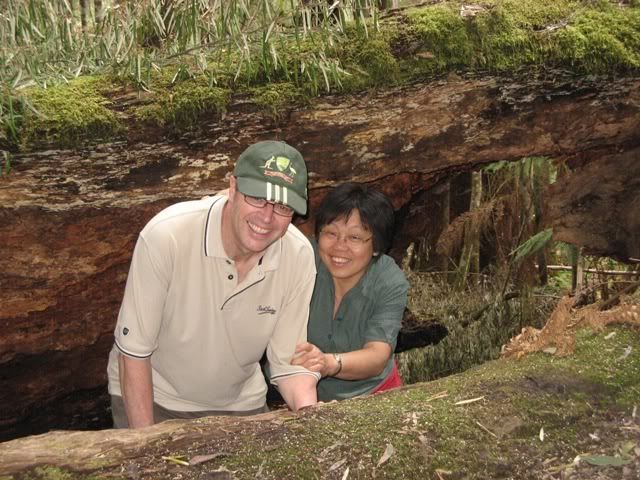 I think every night pretty much we ate some form of seafood or another - it's so fresh over there! Some were a little disappointing but most were delicious!
Sunday:
Went to the Tahune forest where there is a 'airwalk' or basically a suspended bridge that you can walk across for some decent views and admire the trees etc ;-). Swinging bridge is a highlight of Mum's considering she has a fear of heights... thereby a 'moving' bridge is not exactly the most enjoyable trip :p.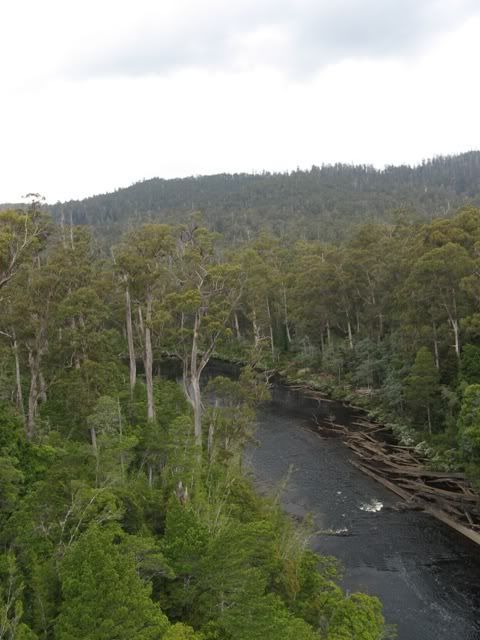 Monday:
Monday was our long awaited trip to Wine-Glass Bay! I think we walked about 15kms in total - and it is NOT an easy walk - you are literally 'climbing' up the mountain on rocks and a few steps here and there.
Then
of course we weren't sure where the next track was (to go the longer walk back to the car) so walked ALL the way across the beach only to find the starting point of the track was back where we started *sigh*! NO, I wasn't the one navigating! I highly recommend this walk to anyone going to Tassie. Stopped the night at Bicheno so that we could go visit Orford and Triabunna the next day.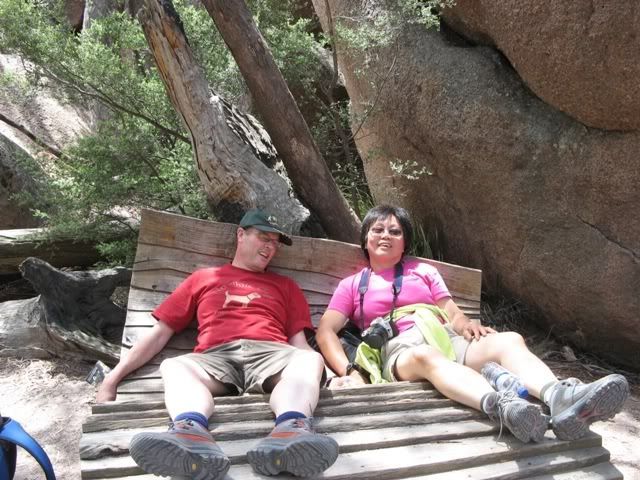 Exhausted after the climb up the hill
View from the top!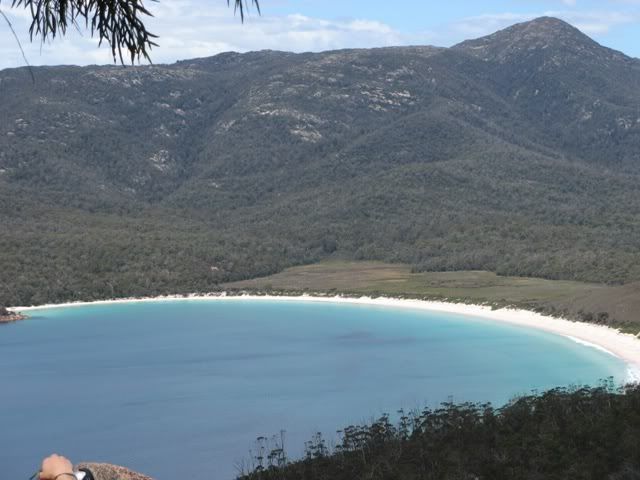 Along the way we also came across some wildlife who weren't at all afraid of people so we could get quite close. I'm pretty sure this is a Potteroo being smaller than the avg Wallaby (sorry, 3rd yr M&M has slipped from my head... permanently!). We also saw an Echidna but the piccies didn't turn out!
Tuesday:
Started the day in Bicheno (after a lovely seafood dinner the night before!) and then trekked down to Triabunna, where M&D spent 4yrs and Scott and Myself were born.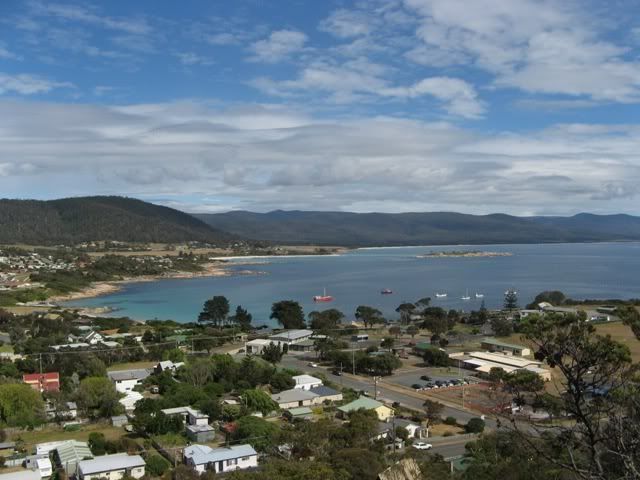 View from Bicheno.
Triabunna is a teeny town about 1hr out of Hobart. Doesn't sound like much by Melbourne, Eastern Suburbs standards (with Cranbourne or Pakenham being that far out, if not more), but Triabunna is *really* small with a tiny supermarket, one butcher, baker and hardware store! Orford is the next closest town (5mins) and although smaller, apparently more popular! We certainly had scenery plus as everywhere you turn had ocean views and lovely beaches..... pity that it will never be warm enough in Tassie to enjoy it! Since we had some extra time, we made a surprise visit to one of M&D's old friends.... was great to see the utter surprise on their face as we had told no-one we were coming, lest we not have enough time to pay a visit. On the home journey, we stopped off at Sorell (about 20mins out of Hobart) to visit an older couple who used to baby-sit my brother and I. I was surprised how much I remembered of them as they visited us a few times in Melbourne. Was kinda nice remembering what I used to do with them when I was a kid ;-). I think we made their day, stopping by to say hello. As for what I remember of our house and Triabunna? Absolutely nothing!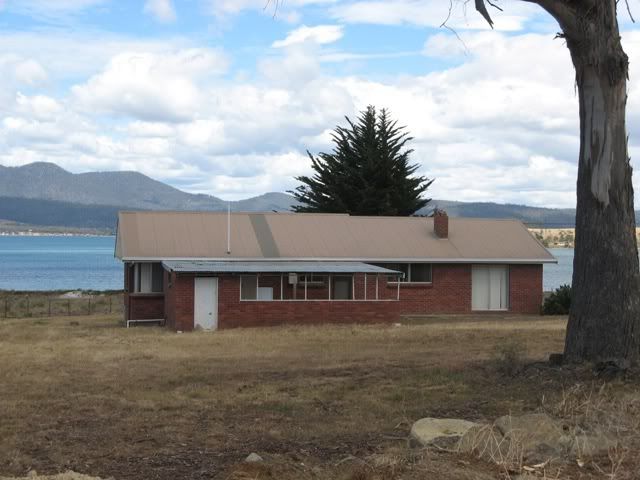 Our old house with the 'ocean view'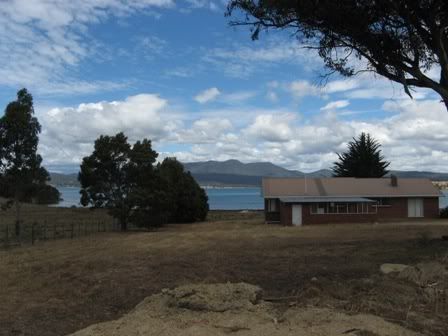 Wednesday:

From all the travels of the past few days, we canceled our plans of another early start to head to Port Arthur and instead decided on a much easier drive to the Cadbury factory and Richmond (quiant old town). Cadbury factory was great and got the tastebuds reeling.... all that chocolate! And I was happy to 'proove' to my parents (and everyone else who didn't believe me!) saying that their seconds went to the pig-feed! so HA to all those who didn't believe me and thought I was joking (me? joke? NEVER!).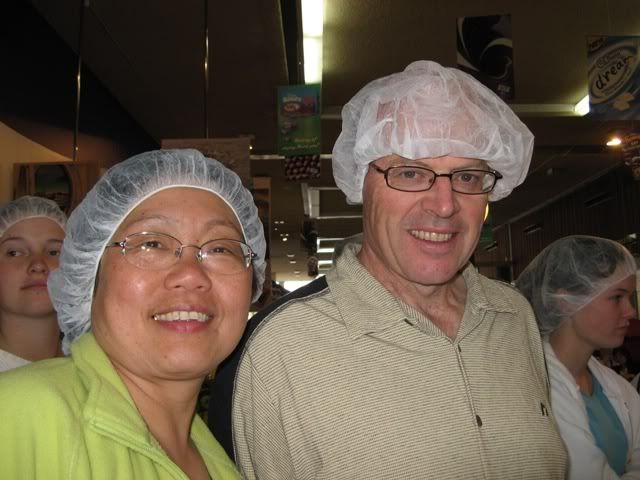 Richmond was a nice little town and we basically just had a quick amble around. By the end of it I was pretty tired (my poor little legs!) so wasn't the best company around ;-). We did go to the Richmond Gaol though.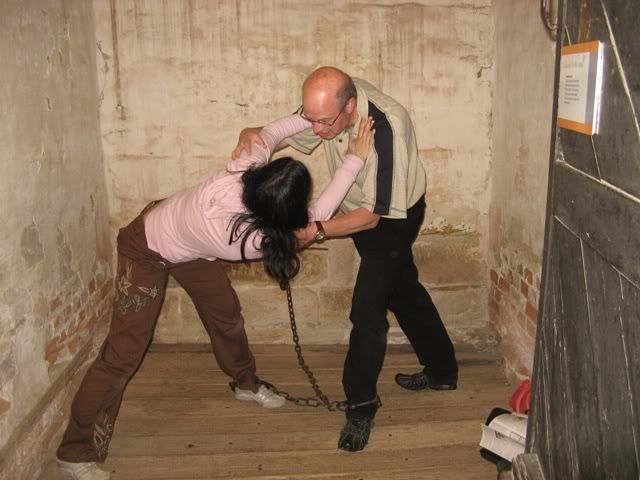 Thursday:

Home
time
.
We spent the morning visiting the Womens Factory (convicts and where they went before assigned to a 'job') as well as the Cascade Brewery. Both were very interesting tours, particularly the Womens factory. I think we made it a 'first' at he Cascade tour though as out of a grp of about 12, only 3-4 actually
drank
beer!!! That couldn't happen too often ;-).
Was a most enjoyable holiday - but all in all - it was great to come home to this: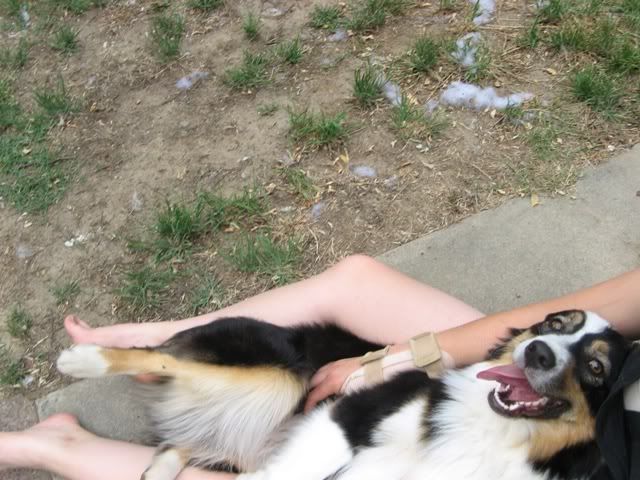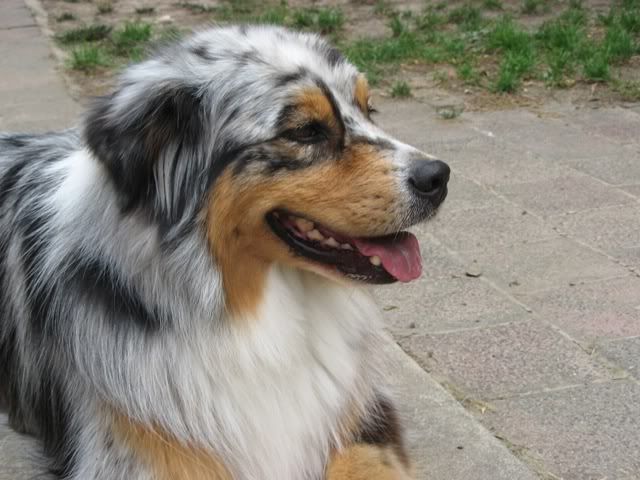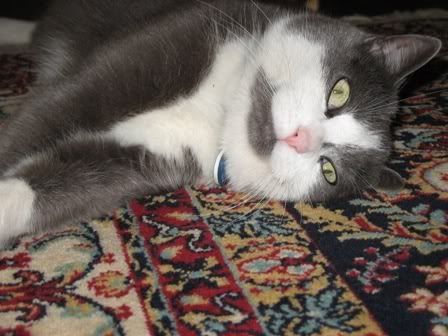 And - what would a post be without some stacked shots of the dogs ;-) (Mind you, I *really* like Leo's one!)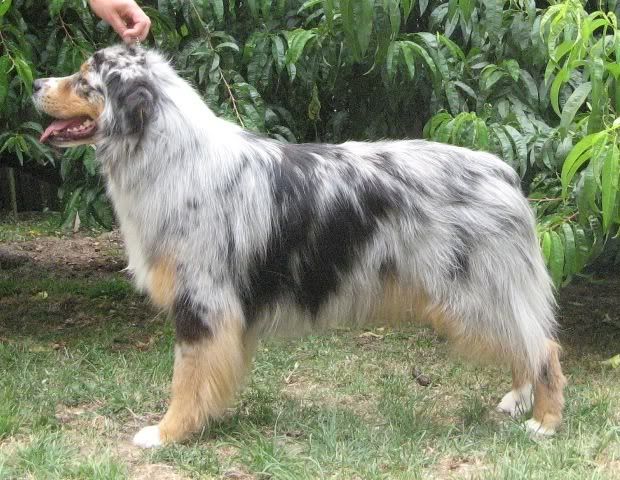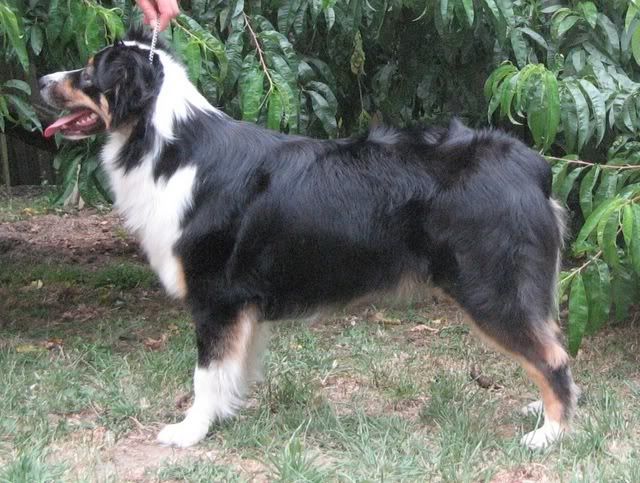 Now - how was that for a long post! Hopefully all the pics didn't conk out your computers!!!
As for what I've been doing the rest of the time?! Some very in-depth research into the world of Grey's Anatomy and Gilmore Girls (the final season!!)..... all thanks to the wonderful people at Amazon! Of course this has involved many late nights (2am!) and considerable yelling at the TV (mainly for GG)....