Seems that this weekend was a weekend for close runs, but not quite there! I had a great night Friday catching up with a couple of friends from Dogzonline one of whom has a litter of 7wk old Goldie puppies which of course were in dire straits for some attention and social work..... So 'we' provided the Pizza/ drinks, and Jenny provided the puppies ;).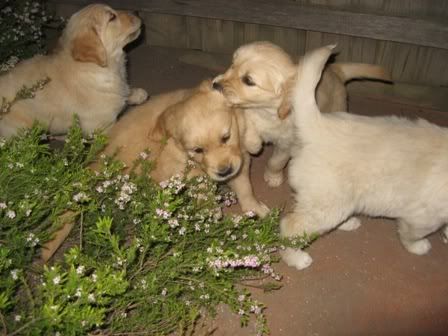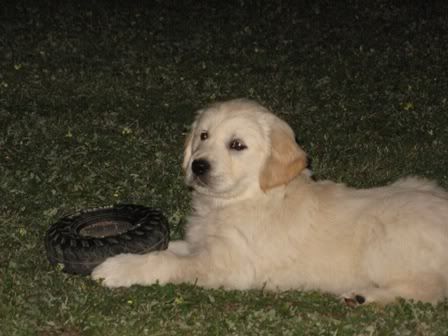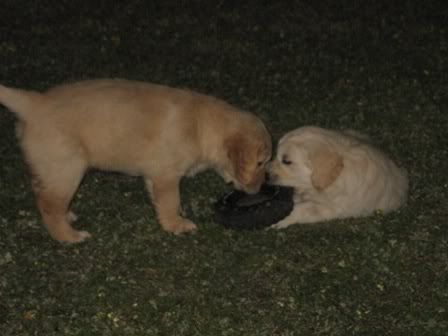 Saturday consisted of an agility trial - and boy - what a weekend of hot, sunny weather we have had (perhaps a touch too hot!). After watching the In Focus Need for Speed DVD and listening in on Gina O'Keefe's seminar - my main aim for the day was to get 4 fast, enthusiastic runs. I certainly achieved this!!! Leo ran really well for me, not dropping off speed at all and doing quite well. I was a little dissapointed with him as for some reason he got confused with my FC (no idea why!??!?!?) and wouldn't follow through and ended up on the wrong side.... never done this before, and he hasn't done it since!!
AM Agility (Novice): Great run - one knocked bar - nice easy course
AM Jumping (Excellent): one tricky bit involving a tunnel ;).. I decided to do a 3 bar lead out which then made the course a nice easy run.... Tyre was first up. Leo *should* get it, but as luck would have it, when I looked back to see how he was set up, his butt was straight and his front was slightly to the left.... result - he ran (tentatively) around the tyre. I kept going and boy did he run a blinder. Apart from the missed tyre, lovely clear round.
PM Jumping (Excellent): Very hard course and very confusing - involving many circles and a serpentine, but to do this, they had to refuse a pinwheel.... ie: it looked like we would be asking the dog to do a pinwheel.... Leo did well, but I took him round the wrong half of the course *bangs head on brick wall*
PM Agility (Novice) - best run of the day - really fast and flowing (he did one stupid thing I think!?) but there was an evil discrim between the tunnels - 2 flex tunnels next to each other - call off far entry of tunnel to enter the correct side.... but the 2 entries to separate tunnels were facing each other - dog took the wrong one :(.
Overall I was really happy with his runs, despite not being able to take home the prizes :)
Sunday - Show with Kinta. Our honeymoon might be over as Marli and Hondo have now joined the ranks of Junior EEK!.... Anyways - we got RBCC out of 4 bitches, one older.... and a good look at for Junior in Grp out of a huge line up! But, we just didn't quite get there!
So - all weekend.... so close, yet not quite :(