Hmm... well no luck in our shows on the weekend unfortunately! Miss K wasn't acting her best due to post-season blues etc... she seems to get a bit sooky about 1-2wks after her season ends and it lasts for about a week or so. For that reason, she wasn't really showing herself off etc :-). It was a double show and we did manage to pull off a RBCC (out of 4 or 5 girls) in the afternoon. In the morning, she didn't deserve anything as the judge wanted us to
walk
around the ring, so Miss K thought it heeling time!!! Or at least focus on 'mum' time :p.
Funniest thing happened the other night. I was going along walking the dogs when this car pulled up in front of me. Here I was thinking that she was going to start yelling at me coz I cut her off or something (I'd just crossed a driveway).... Nooo.... she got out of her car and said to me "Are those Aussie Shepherds"? ROFL! Well I never! Whenever I see someone walking an Aussie I always have an impulse to do that, but I've never had the nerve!!!! It turns out she has one of her own - a black tri, 10.5yrs.... Storm's litter brother!!!!
Jay
I think his name was. Anyways we got talking and it seems that she used to show him a bit, but he is a big boy, taller than Leo (who isn't short!) and Storm also. One comment she made was that at least I don't have 'issues' with my two.... I asked her what she meant.... she said that her boy doesn't like other dogs, particularly if they are bigger than him etc,etc. That surprised me! I'm so used to hearing about Aussies being the typical, easy going, carefree dogs etc,etc.... although I know that isn't the case for all Aussies.... but still :p.
Life is pretty much as per usual at the moment - dog training, work and other stuff. Leo ran great last night at agility training. This weekend will be a BIG weekend with shows from Sat - Tue - i've taken some time off work etc. The ASCV specialty is on Sat - so beware of photo overload!
On a side note:
Apparently this is ladylike....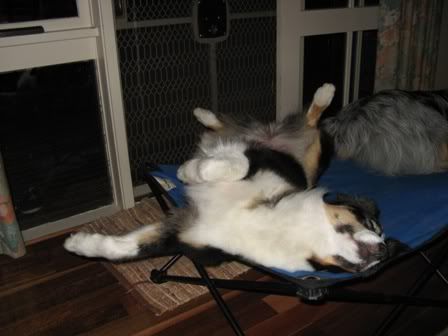 And Leo thinks this: